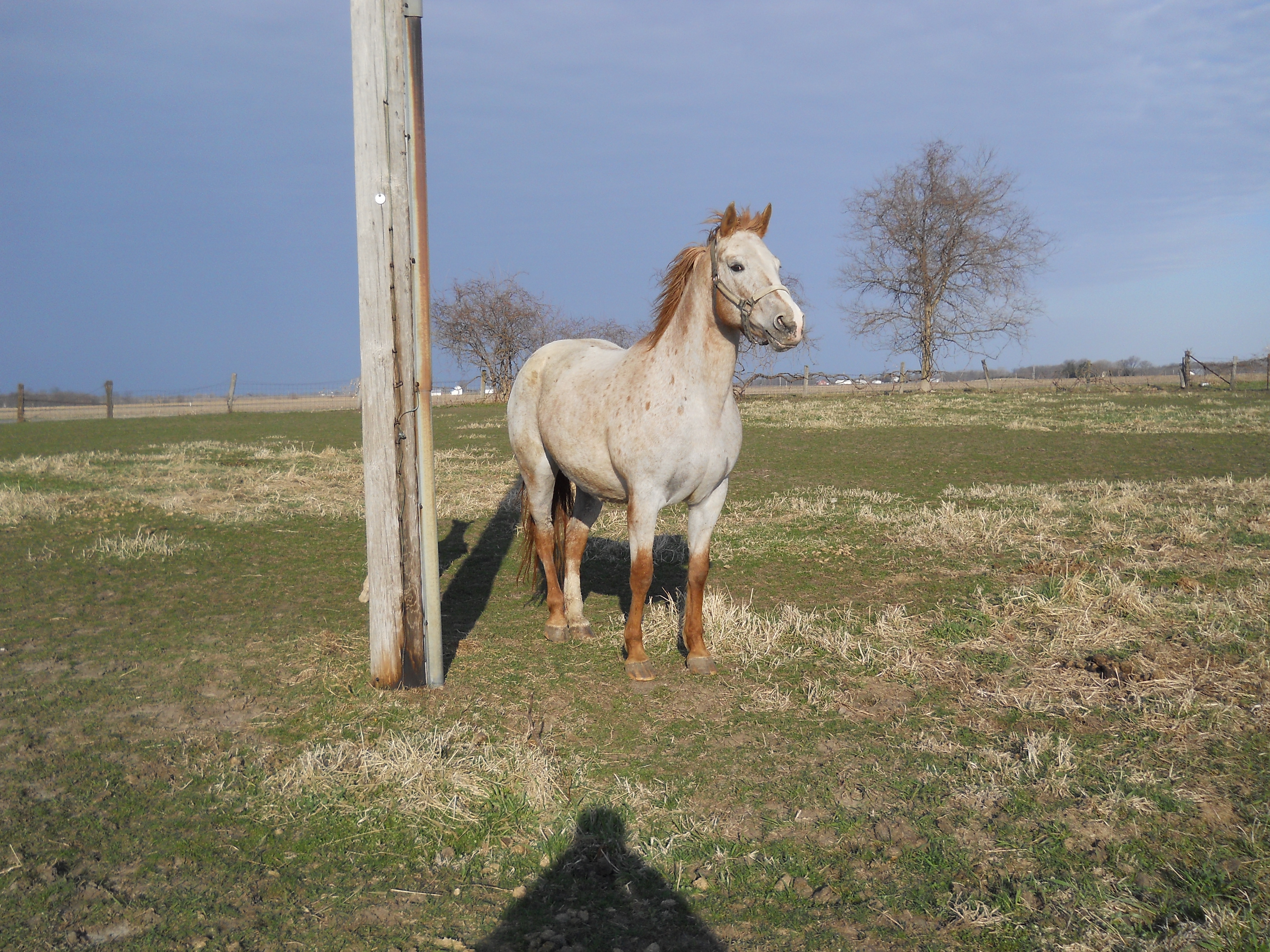 Watch Joelles Moon ApHC
2002 mare with race and cow breeding. Her pedigree is on All breeds and on our broodmare page. She has an old injury that kept her from showing but is sound today. We will be starting her under saddle soon if she is at the farm. We did ride her very little as a 3 year old then she got put on the back burner to horses coming in for training. She has great movement and super legs. She is breeding sound but is not bred back for 2012. She outproduced herself with her 2011 filly. Easy keeper and stands to be vetted and trimmed.
$400.00 obo
19 year old POA gelding..wonderful with kids and other horses. We are working on getting his hooves just right and they are hardy and strong but need work . We took him in from a family that couldnt care for him anymore. He would be great for a kid or small adult that wants to ride the trails.
I am using him for lessons but at his age the round pen is kind of hard on one of his knees that I think might be a bit arthritic. He is not on a joint supplement yet but could benefit from one. He loves to ride and is more stiff than sore. I think the tight circles of the round pen with daily lessons is too much but riding on trails would be his ideal. My 10 year old daughter and I ride him around the farm saddled and bareback and he has a lot of go and doesnt balk a bit. He stands around 13 hands and is an easy keeper. Lots of life and riding left in this one. To good approved home only.
SOLD
Just Fit To Be Tide (pending) aka Ninja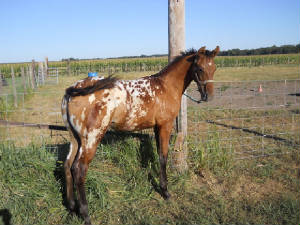 March 18 2011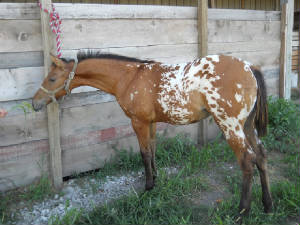 2011 Colt by WK Riptide out of Justanuff pop.
Should mature 16 hands
Bay dun with dun characteristics-dorsal and leg barring
Sire and his awards are on Stallion reference page.
Ninja should excel in Hunter in Hand, Most Colorful, Longe Line, and later HUS/Jumping -hunter, gaming,dressage.
$600.
Patience is a 2011red dun filly by WK Riptide and out of Watch Joelles Moon.
Patience is getting spots and has mottling and striped hooves so she should get regular papers (still needing to get them sent in and she sells registered at our expense)
Patience is easy to handle and loves people. She should mature 15.1 (or more) and is already 13.2 at 5 mos.
Very correct and balanced filly that has great movement. She will do well in Hunter in Hand as a yearling (as do all her sires offspring) and later will be a great rider. She should cow or game and possibly HUS/Jumper/WP..Will make a nice all around and youth horse.
$500
WK Ripped N Torn "Razor" 87% FPD
2010 gelding by WK Riptide out of Andrews Poteet Lady N/N
Razor is 14.3 hands as a yearling and has great balance and movement. Has Hunter in Hand and halter points with limited showing.
Placed 3rd out of 9 geldings all ages in the IL State Fair Land of Lincoln gelding class as a yearling.
Handles nicely but with a bit of yearling boy sass. Has been saddled but just for fun. Not ridden or pushed.
Will make an awesome Hunter in Hand and showmanship horse and will later do well in HUS/Jumping/Games and possibly W. Pleasure. Not a halter horse but will make a nice all around rider.
$900.00